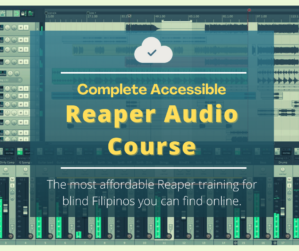 Overview
Are you blind and you want to learn Reaper, one of the most advanced yet accessible Digital Audio Workstations DAWs? SaktoHost offers a Reaper course for screen reader users called Accessible Reaper Training which is very affordable yet high quality.
What can you accomplish with Reaper
If you are a voice artist and you want to enhance your recordings
If you want to edit an audio commercial for a radio station or any dubbing requirements for that matter
If you want to create a very sophisticated audio drama with all those audio movements across spacial audio field
If you want to clean up audio
If you are a music artist and want to mix and master your audio project
Among other things
What you will get from this Accessible Reaper Training
Once you complete our Reaper course, you will know how to record, edit, mix and master using the DAW.
You will also know how to export your final track so you can share it to others.
You will be familiarized with the concept of audio projects, multitrack recording, how it is different from basic audio editor like Audacity and GoldWave.
But before that, we will first teach you about sound; how it can be manipulated until it becomes audio, different audio formats, proper equipment to use, tips on how to get a decent recording from a source and much much more.
As a bonus we can provide you audio recordings in MP3 format of the lessons for free if you avail the complete course.
** We accept GCash, PayMaya and PayPal as payment options.
Accessible Reaper Training Registration Form
Are you ready to learn Reaper? You may fill out this registration form and begin the course at a schedule that is convenient for you.