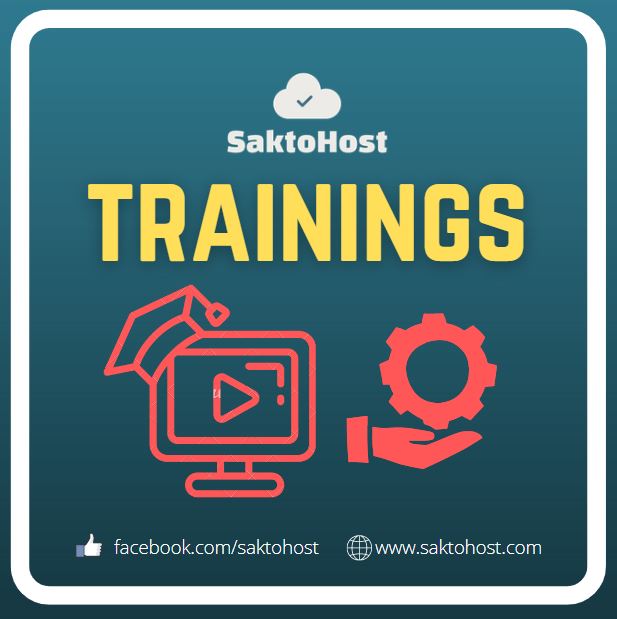 Below are the list of different training programs and services that SaktoHost offers both free and paid:
Free SaktoHost Training and Services
TeamTalk server and application training (included when you subscribe to a TeamTalk Hosting from us)
Basic VPS Server Training (included when you subscribe to any of our VPS Hosting plans)
Azuracast training (included when you subscribe to our Radio Hosting Plan)
Basic Android and iOS accessibility training
Basic Windows and computer training
JAWS and NVDA screen readers training
Basic training for GoldWave and Audacity
Free limited technical support when you subscribe to any of our hosting services
Up to 15 minutes free consultation regarding topics that are related to accessibility
Paid SaktoHost Training and Services
Reaper Training visit this link to know more and to register for the course
Linux and server administration training 800 pesos/hr
WordPress training 500 pesos/hr
General accessibility training (rate is negotiable)
Paid technical support 500 pesos/hr
Audio editing/mixing for as low as 350 pesos per project
More details such as how to pay
For audio editing/mixing and other services, we require 50% of the agreed rate for the initial payment. Full payment is only after the completion of the project. We will notify you in advance if ever we cannot complete the request for some reason and will process the refund as soon as possible.
For Reaper and other training sessions you have to pay before the beginning of the class schedule. If suddenly you can no longer attend the sessions, for as long us the training has not yet started, kindly send us a message as soon as possible so we can return the full payment. Conversely, once you are able to attend the class and then decided to not attend anymore, full refund will no longer be possible at that point.
For the paid technical support full payment is required before the beginning of the first session. Partial refund is allowed at our discretion only when we feel the rendered service is unsatisfactory for your part.
** For audio editing/mixing service unlimited modification requests are welcome.
** For audio projects we will provide you two audio formats: .wave and .flac.
** For online training sessions and technical support we use TeamTalk server or Zoom.
** We accept GCash, PayMaya and PayPal as payment options.